Auto Repair Service
We handle major and minor repairs on foreign and domestic cars and light trucks.
Comprehensive Diagnostics
Oil Changes, Lube and Filters
Scheduled Maintenance
Headlight Restoration
Belts and Hoses
Air Conditioning
Tune ups and Performance Testing
Alignment - Steering & Suspension
Shocks, Struts, and Air Ride Systems
Ignition Systems
Engine Management Systems
Emissions Systems
Fuel Injection Systems
Brake Service and Brake Systems
Exhaust Systems
Automotive Electrical Systems
Automotive Cooling Systems
Clutches, CV Joints, U-Joints
Engines and Transmissions
Power Windows and Door Locks
---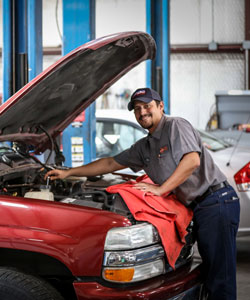 BG Automotive Services
BG Automotive Maintenance Services are designed to make vehicles perform better and last longer.
The BG Service Plan is a revolutionary program that protects you and your car in two ways. First, by following a scheduled maintenance program with BG products your car will last longer, have fewer breakdowns, and save you money and headaches.
But the BG Service Protection Plan takes it a step farther. If a serviced component fails, BG will pay for the repairs. There are restrictions and limitations, so ask us for details and printed material.
Rush Limbaugh talks about BG!
Listen to hear the 2-1/2 minute sound bite now...